Inspirational TV interior stylist and all-round ray of sunshine, Sophie Robinson, is best known for her use of colour and perfectly clashing patterns. So, who better to turn to for some styling advice this Christmas?
We recently joined the colour-confident stylist in her home where our Bluebell loveseat has had a Sophie-style makeover. Talking about cosy interiors, Christmas traditions and her top five tips for a colourful season, Sophie is here to help you get merry-ready.
Our Bluebell loveseat looks amazing in your home! Talk us through how you've brought together this comfy and cosy look for your living room.
The Bluebell in Amazon velvet is the perfect hue to match in with my scheme, I love the rich colour that balances with the vibrant wallpaper. Velvet is my favourite fabric for upholstery as it feels sooo luxurious, soft and cosy and it looks amazing in a jewel-like colour.
You are a true advocate of colour – what hues do you like to bring into your home at this time of year?
I love the jewel-like colours such as teal, golden yellow, emerald and fuchsia, as they feel so rich and warm. Traditionally autumnal or winter colours are russets and browns but those colours don't resonate with me at all. I gravitate towards the more vibrant shades – can you tell?
As soon as the weather gets colder outside, how do you choose to warm up your interiors and get your home cosy for the season ahead?
First, the wood burner goes on and I dot scented candles around the house. I'll also take the wool throws out of the airing cupboard to cosy up with on the sofa.
We're campaigning for people to enjoy staying in this season (it's the new going out, don't you know?). What does your perfect winter's night in at home look like?
Since moving to the country, nights in have really gone up a level. My husband makes the fire, while I make a delicious hot drink. I'd go for a hot chocolate with almond milk or a glass of red wine. Then it's time to get into something comfy and curl up on the sofa nestled in amongst my bevvy of cushions to watch our favourite box set.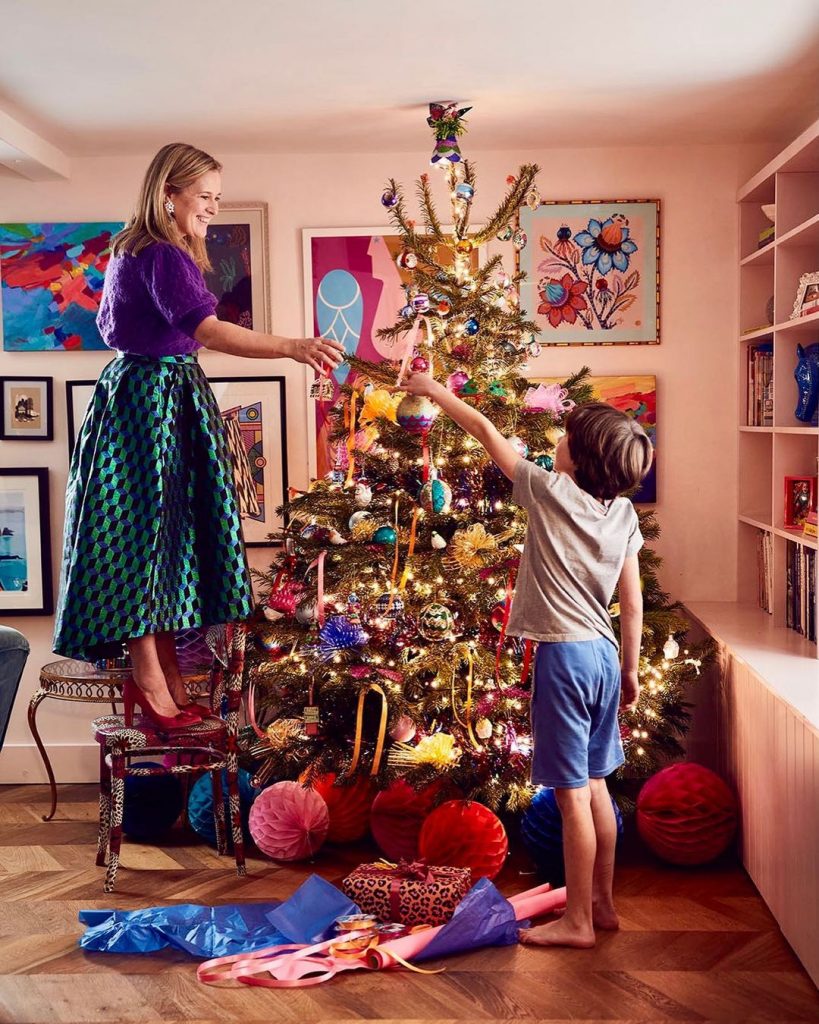 Do you have any favourite family traditions when it comes to decorating your home for Christmas?
I'm really nostalgic when it comes to Christmas. First up is a trip to Sussex trees to pick our tree. We always have a real tree – you can't beat the aroma. My tree is decorated in baubles I've been collecting for years including my grandmother's hand-painted glass baubles from the 1960s. Allowing my young son to play his part in decorating the tree is also a must. I also love to collect natural foliage like ivy, berries and pinecones from the garden and the woods to dress the house with.
We can imagine your home to be like a winter wonderland at Christmas time with all those beautiful colours! Do you like to host a lot over the festive season?
I love everyone to come to us for Christmas and we always have our door open for visitors. We are big on spending time with family at this time a year and get all out friends over for a bonfire on New Year's Day.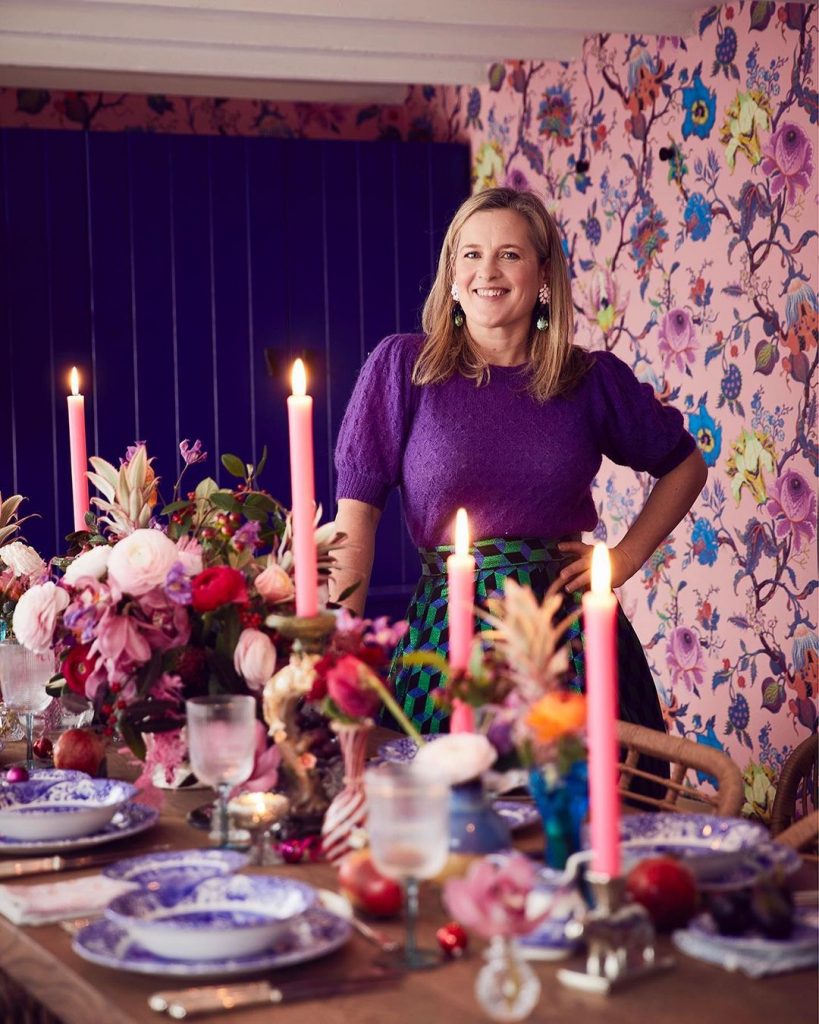 If you could share with us one way to give an instant festive update to your interiors, what would it be?
Lights! The more the merrier, indulge in twinkling fairy lights throughout your home. They're just pure magic and I think it's important to be a little bit kitsch at Christmas.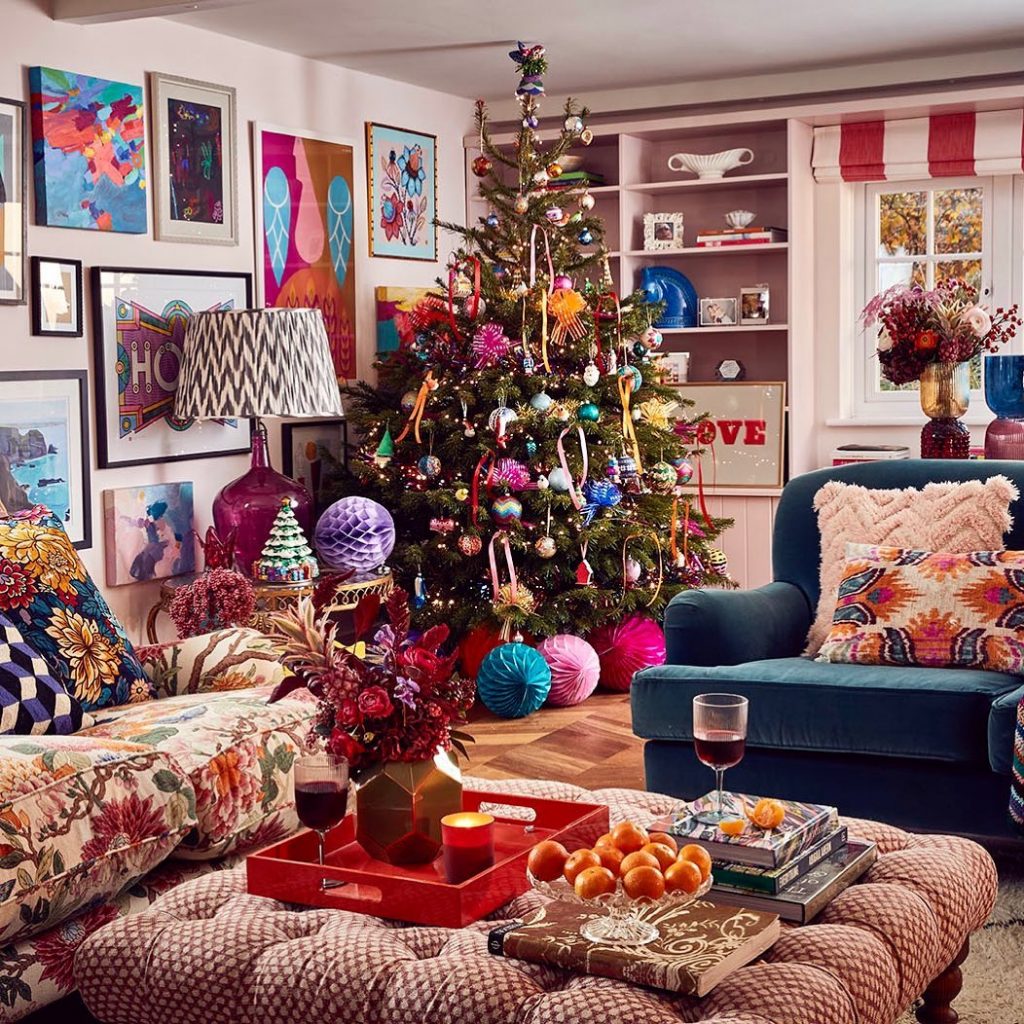 Sophie's top 5 tips for a colourful Christmas
1.Update your living room with colourful cushions and super-soft throws in rich jewel-like colours to make it feel cosy for Christmas.
2.Scent is very evocative to I invest in plenty of scented candles and always have a real tree.
3.Cosy up cold floors by layering rugs. I love to overlap patterns with vibrant plain designs.
4.Fresh flowers can be disappointing this time of year, so don't be afraid to fake it!
5.This is the time of year to celebrate 'more is more'. Invest in twice as many fairy lights and keep hanging the baubles until your tree is drooping with the weight!