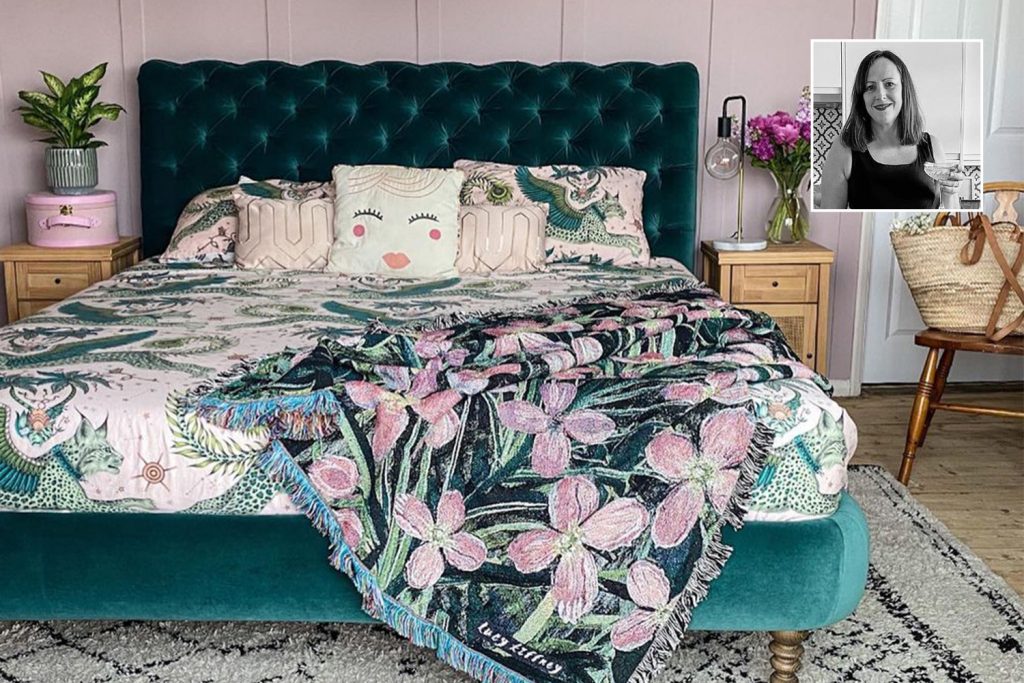 This week, we sat down with the wonderful Melanie Boyden, aka @melaniejadedesign, whose love of a pink and green colour scheme and beautiful biophilic interior design has inspired her 161k Instagram followers to step away from the monochrome and embrace maximalist prints, luxurious jewel-tones and sumptuous textures.
Since our last sit-down with the award-winning Interior Design blogger and stylist, Melanie has been nominated for the 2020 Amara Interior Blog Awards for the Best Home Styling Blog, has moved into a beautiful beach house, and has ventured upstairs to provide us with even more fabulous interior inspiration.
Unveiling her brand-new bedroom, Melanie shares her secrets to creating a sanctuary of colour and texture, as well as providing aesthetic bedroom décor ideas to ensure you're stylishly nestled all snug in your bed this Christmas.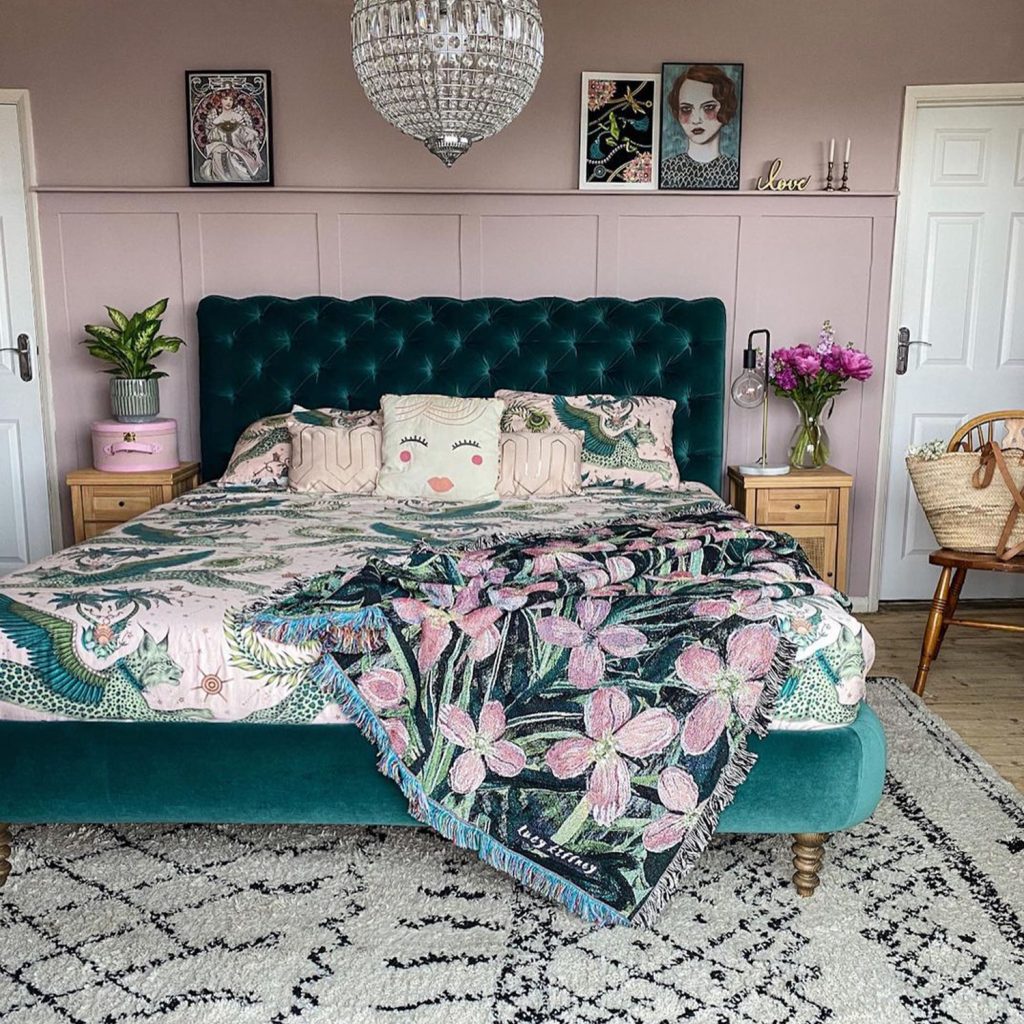 Melanie's interior style
Describing my interior style is tricky for me, as I don't think it sits in any one category! I love biophilic design and centring a room around nature, plants, and lots of light. I love vintage pieces and lots of character in a home, but I also love Scandinavian design and I think my style incorporates a lot of this.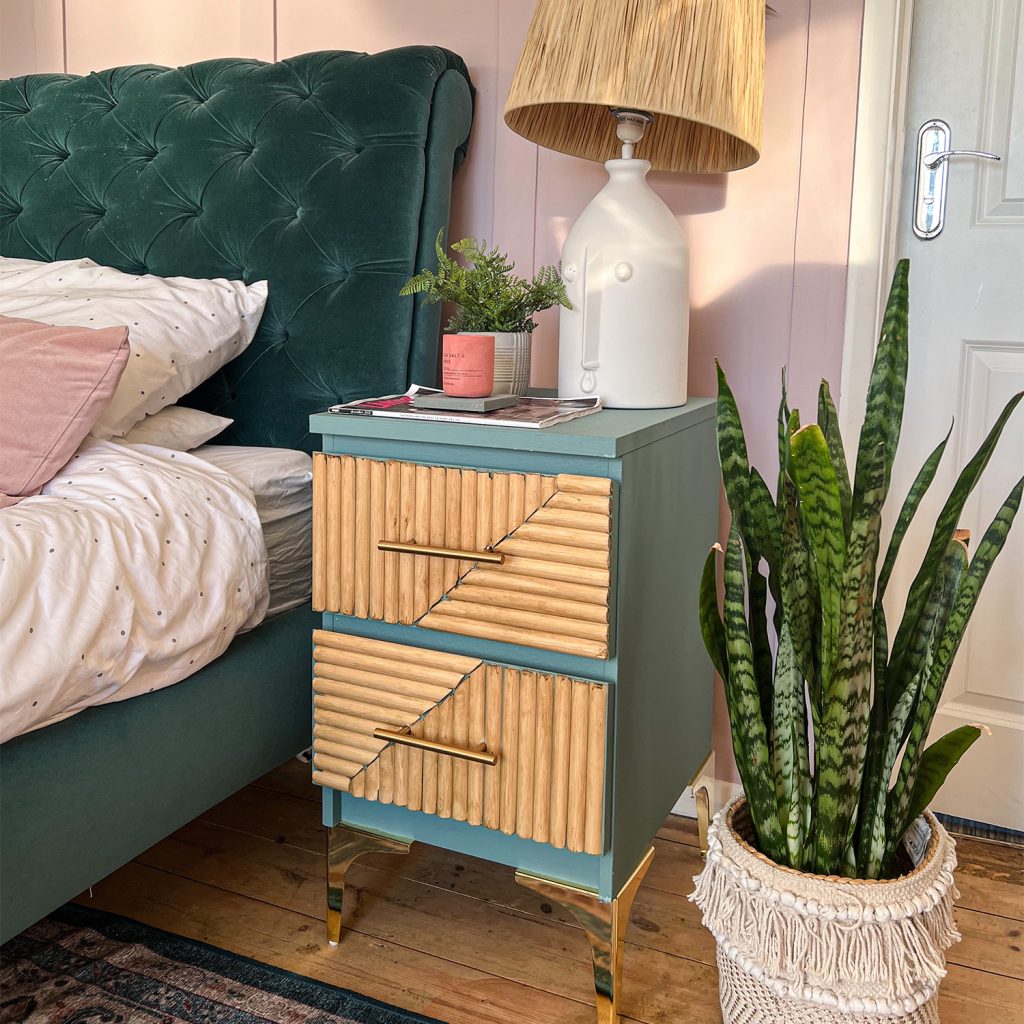 Ultimately, I'm inspired by colour, pattern, and texture! I love raw materials like wood, steel, rattan, and, of course, nature itself. I think this stems from my childhood as my Mum is a keen gardener and loves an old stately home and garden. We spent a lot of time as kids in nature, exploring the gardens and forests of National Trust properties, so being in nature reminds me of the happiness and calm I felt as a child. I absolutely love connecting with nature – it makes my problems and worries seem insignificant and reminds me what an incredible world we live in. Because of this, I try and bring as much natural elements into the home as possible, whether that be wood, plants, or simply the colours green and pink.
Top tip: 'Your bedroom is mainly a place to relax, so calming colour schemes are important. This doesn't mean that you have to stick with a neutral colour palette – green is an extremely calming colour and goes with so many other shades. Just don't make it too busy.' – Melanie Boyden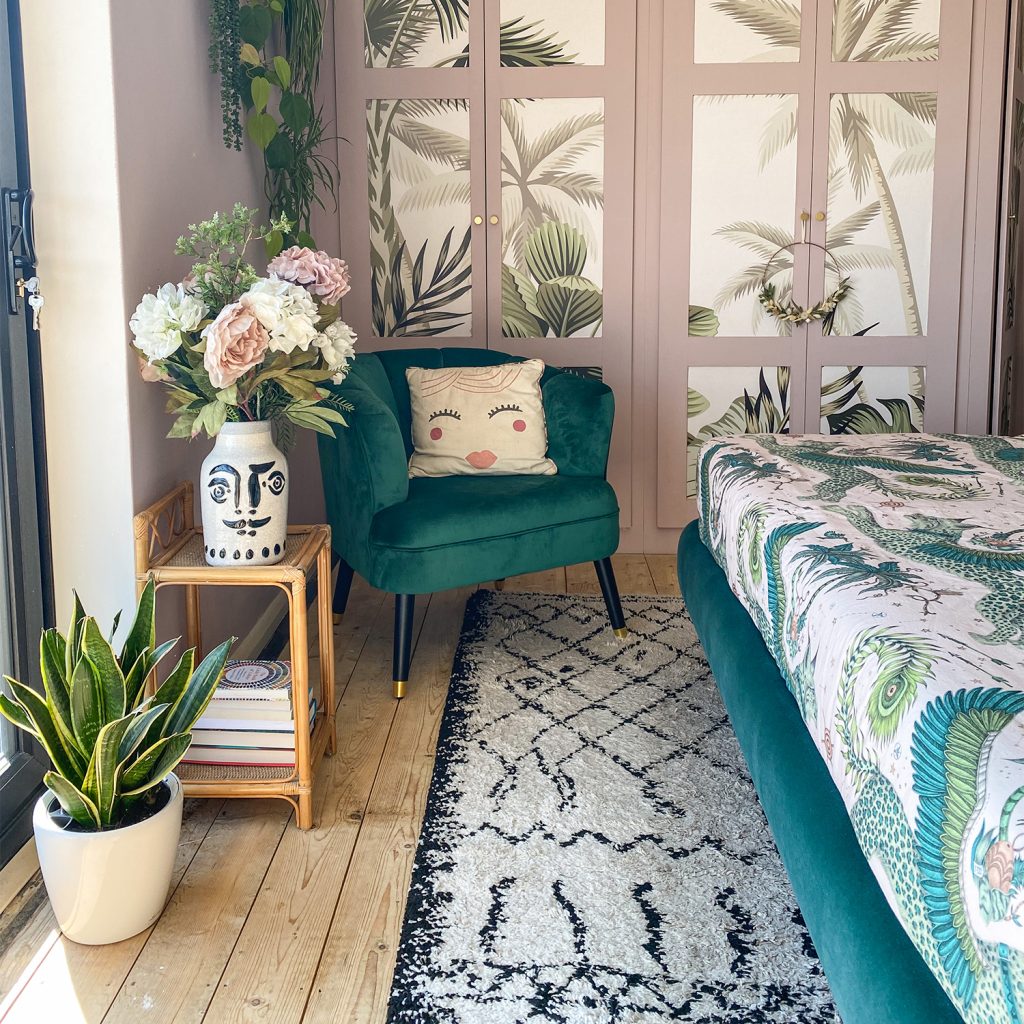 Decorating a bedroom: cosy aesthetic room décor
When it came to designing our bedroom, it all started with our built-in wardrobes. I wanted to put new panel style doors on the wardrobe and add botanical wallpaper, so it looked like a window looking outside. I absolutely adored the paint, Faded Rose by Zoffany, so I decided to paint the whole room in this. It is a very calming colour, and it goes perfectly with dark jade green.
Top tip: 'Soft furnishings are a quick and simple way to make your room feel cosy! Lots of throws, cushions, and weight blankets. Candles and fairy lights are also a fabulous way to make your home feel cosier in the winter months.' – Melanie Boyden
We have a Jade velvet sofa from sofa.com in our living room which I love, so I wanted to introduce this colour into the bedroom by choosing the Knightsbridge bed in Jade smart velvet. It is such a huge statement piece! I love the button back design and its glorious green colour. But not only that, it has been a gamechanger when it comes to getting a good night's sleep.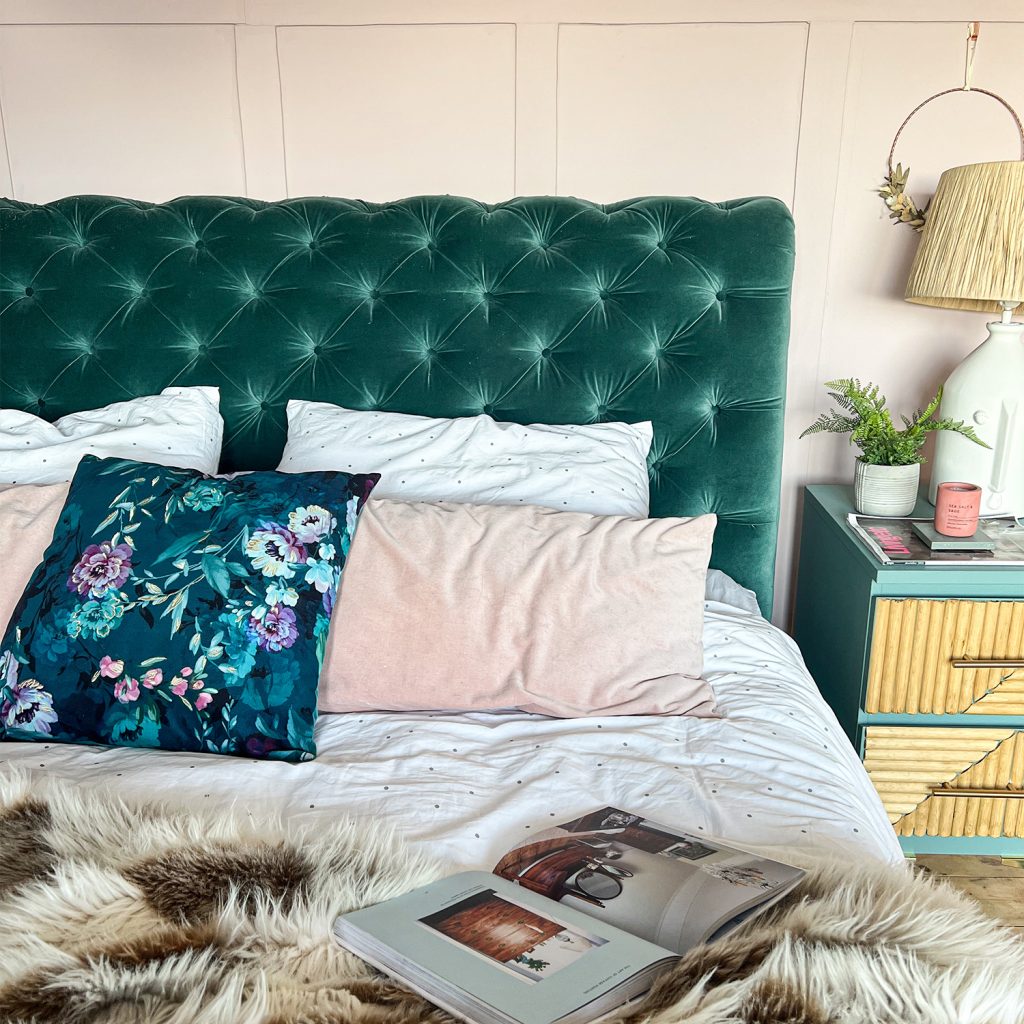 Sleep and being in bed are my favourite things, so it's important that my bedroom furniture is cosy and comfy. The Knightsbridge is a sturdy piece of furniture but somehow feels lighter?! We had an ottoman before and it felt clunky and dense, if you can understand what I mean? We've also gone from a King size bed to a Super King and this has revolutionised bedtime! Our 6-year-old son often comes into our bed in the middle of the night and now we're no longer fighting for space.
Top tip: 'Make sure your bedroom is tidy and peaceful. I find if my bedroom is messy, I can't relax as the mess can stress me out! I have also started putting my phone on the other side of the room which has had a huge effect on my quality of sleep. It means I can't scroll my social media until late. I find that I can stay awake when I'm on my phone, but I fall asleep quickly if I read a book!' – Melanie Boyden
Love Melanie's style? Keep up-to-date by following her gorgeous Instagram account @melaniejaddesign with all the latest snaps of her stunning interiors as she continues to beautifully decorate her new home!